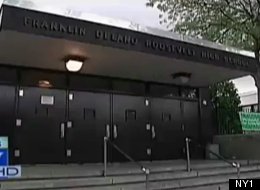 More than a dozen New York City students will have to retake state mandated standardized exams after the city lost their answer sheets.
Students at Brooklyn's Franklin D. Roosevelt High School's night school are already considered at risk of dropping out. The program helps struggling students work toward graduation, but the mix-up is affecting 17 students, whose answer sheets were not included in a packing list to be scored, NY1 reports.
The city doesn't know what happened to the U.S. history exams, which disappeared as they were being transferred to another school as part of an effort to curb cheating by having teachers grade exams for students at other schools. About 107,000 tests from 162 schools were exchanged for grading, according to The Wall Street Journal, and are required for graduation.
Four students were not able to graduate on time as a direct result of the missing answer sheets, while the other students still had other requirements to meet. They must retake the exam during the August test administration.
The incidents call attention to a growing movement calling for deemphasis on standardized testing. More than 1,100 college professors across the state signed a petition in June rallying against excessive, high-stakes K-12 standardized testing. They argue that the exams have failed to improve schools over the last 10 years — a recent analysis found that Bloomberg's new schools have failed to improve the academic standing of city students.